Recap of the London Super Trunk Show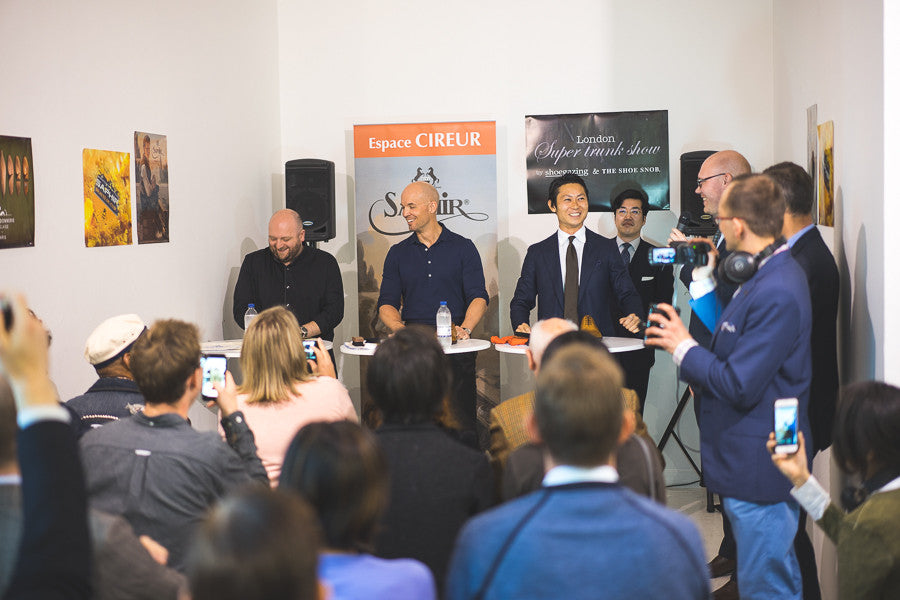 Recap of the London Super Trunk Show
by Mikolaj Pawelczak / Blue Loafers
This past weekend on Saturday 13th of May in London we had the opportunity to visit the world's largest shoe event, hosted by Jesper Ingevaldsson aka Shoegazing and Justin Fitzpatrick aka The Shoe Snob blog, also owner of J. Fitzpatrick shoe brand - London Super Trunk Show.
The venue was conveniently located in Mayfair, central London and easily accessible by public transport.
Visitors could see the following shoe brands and meet their representatives: J. Fitzpatrick (England), Caulaincourt (France), Hiro Yanagimachi (Japan), Stefano Bemer (Italy), Vass (Hungary), Carlos Santos (Portugal), Yanko (Spain) and Skolyx (Sweden), Ramon Cuberta (Spain), Barbanera (Italy), The Sabot (Sweden), Antonio Meccariello (Italy), Yohei Fukuda (Japan), Norman Vilalta (Spain) and Carl Friedrik (used to be Oppermann London), Saphir and Fred & Matt - as partners of the event.
Figure 1: Preparation for the Shoe Shining Competition
The event started promptly at 10am on Saturday however the makers and owners of the brands gathered for early evening drinks on Friday night. It was a pleasant evening during each one of us could have a conversation or chat and properly catch up before the big day. Everyone was aware that the during the event it might be very busy so it was the only chance. We concluded the evening with a nice dinner in one of London's restaurants sharing experiences about most comfortable shoes on the plane, amongst others.
Figure 2: Stock of Yanko shoes at the event.
London Super Trunk Show featured mainly brands that are not easily available in brick and mortar stores, whether in London or around the world. In my opinion that was one of its biggest perks. For this reason I believe many visitors wanted to try diferent lasts and sizes during the event before making final purchasing decision later on.
Figure 3: Hiro Yanagimachi fitting a customer.
I don't have to say how amazing opportunity it was to meet the famous Japanese shoemakers and their shoes. Both Yohei Fukuda and Hiro Yanagimachi are full of passion and literally leave part of their soul in each pair made. Quality is top notch with Fukuda being more classic of the two. Norman Vilalta presented an extensive range of his shoes with the famous 3D patina models being the most seeked for. Heavy looking rubber sole made by Norman still surprises first timers by its comfort and lightweight, sensation that can only be felt with the shoes on your feet. Hungarian shoemaker Vass, and one of the best quality/price shoes in the world was represented by the kind Rezso Kuti, on behalf of Mr Laszlo Vass. Legendary durability of Rendenbach soles used by Vass was presented on many pairs of beautiful U and F lasted shoes, their best looking lasts in my opinion.
Figure 4: Selection of Norman Vilalta shoes in 3D patina.
Japanese new RTW make
One of the two Japanese makers was Hiro Yanagimachi. We all have probably seen his master piece shoes on Instagram already. Together with his small team they presented their MTO and MTM options starting from a very reasonable £1200 for basic MTO. Customers could try one of the fitting shoes and even arrange for some adjustments. Very helpful and keen staff helped measure the foot and choose the best size. It has to be said that Yanagimachi's team was very organized with all the models clearly presented on a sheet with the modifications and prices neatly arranged. You could tell that ordering and making shoes with this brand will result in excellent customer service.
Figure 5: Hiro Yanagimachi beautiful summer shoe.
During the event Yohei Fukuda, well known for his bespoke shoes, presented his new project -  RTW collection, expected to be officially launched in September. There are currently four different models available: black oxford, light brown full-brogue oxford, dark brown suede oxford and dark brown oxford with medallion. During our short conversation Yohei Fukuda said:
"Currently all models are based on the same last but later this year we will also introduce our chiseled last. Shoes in RTW range are hand lasted and hand welted and only the sole is stitched by machine. The finish is obviously done by hand too. So if you put a shoe from our bespoke range and RTW range next to each other, I don't think you would be able to tell a difference. My goal was to make beautiful RTW shoes. I tried different factories first but was not really happy with the effects so we decided to make them ourselves. On top of our own, we also work with a small shoemaking workshop I know and they help us with the work on the bottoms. All the work on the uppers, cutting the leather and finishing are all done by us. We use the same leathers as for the bespoke shoes so you can expect best quality in this aspect as well. In terms of size we will offer shoes starting from 5UK to 12UK, also in half sizes. One good aspect about the RTW line I think is that you could try them before going into the bespoke one. For example you could wear them for a year or two, try them for extended time and then report to us with a feedback that is based on extensive wear. That would be a very good indication for future bespoke pair and any possible adjustments that would have to be made. RTW shoe prices would start at about £1650."
Figure 6: Yohei Fukuda RTW line of shoes.
The Sabot
Another interesting feature of the Super Trunk Show was the introduction of new shoe brand - The Sabot. It is a RTW shoe line based on the cooperation with Antonio Meccariello. Gothenburg based retailer will offer them in Europe, together with already present Meccariello own brand and Fukuda RTW shoes. Sabot shoes are made to the same standard as Meccariello with highly bevelled waist being one of the highlights. Slim and nicely shaped last creates a very good first impression. The only difference is in the quality of materials being slightly lower. I decided to give a standard UK 8 size a try and found that a better and tighter fit was achieved with half a size smaller model. Sabot had a range of fitting shoes available. They fitted very well, especially considering my slim feet. The heel was very well supported with the arch sitting firmly too. Taking into account the price of approx. £420 this brand can really be something interesting for those looking for fine pair of shoes in reasonable budget. They will definitely be a fierce competition to Crockett & Jones handgrade line.
Figure 7: New brand The Sabot on display, made by Antonio Meccariello.
Figure 8: Shoe shining competition
Shoe shining competition
Judging by the general public interest it has to admitted that the Shoe Shining Competition was the highlight of the event. Held at 3pm in the afternoon consisted of 3 competitors whose goal was to do their best shine on a pair of Loake tan coloured shoes in 20 minutes. All three coming from different backgrounds also chose different techniques. There was polishing using cotton cloth, cotton pads or even finger! To my surprise the finger technique proved to be the most efficient and achieved the best result because this contestant won the World Championship in Shoe Shining. Happy winner Yuya Hasegawa (pictured below) received a pair of English made Loake shoes and accessories from Saphir - clearly a prize worth taking a 20hour flight from Japan for!
Figure 9: Happy winner Yuya Hasegawa
Figure 10: A proof of his skills, beautifully shined pair of shoes
Discussion Panel
Last but not least there was a discussion panel hosted by Jesper from Shoegazing. Tony Gaziano, from Gaziano & Girling, Sarah Nelson from online retailer A Fine Pair of Shoes and Chris Than store manager of Crockett & Jones have been asked questions about the future of British shoe industry. Tony Gaziano particularly gave interesting insights into the business when speaking about the increase in leather prices and quality. All guests seem to enjoy the new era for shoe industry which had a wave of customers willing to know more about the products arrived. It's been few years now that we see an increased popularity amongst younger customers who are keen to wear quality British made shoes. "It would take us probably 100 years rather than 10 to grow our brand" said Tony Gaziano about the impact of social media and internet on his business. Not surprisingly everyone agreed that it is very much desired to be on social media and they use this as a marketing tool extensively. Brexit was mentioned in one of the last questions by Jesper yet none of the guests were brave to predict its impact on the businesses.
Figure 11: A discussion panel on the future of British shoe industry.
Discussion panel ended this enjoyable day of shoe celebration in London. The makers, tired but happy admitted they received fantastic feedback from visitors. Some of them for the first time in Europe, presented their shoes to the public hoping for good "reviews". Thanks to Justin Fitzpatrick and Jesper Ingevaldsson they not only achieved exposure to European clientele but also had a chance to network with each other creating a friendly group of shoemakers. It was a real pleasure to be able to spend time with them and let's hope we won't have to wait for similar event too long.
Figure 12: Stefano Bemer shoe in old russian leather
Figure 13: Beautiful chukka boot
Figure 14: New brand in Skoaktiebolaget portfolio - Carlos Santos
Figure 15: Customer trying a fitting shoe from Carlos Santos
Figure 16: Carlos Santos offers a patina service for their shoes
Figure 17: Carlos Santos deep brown oxford
Figure 18: Norman Vilalta double monk shoe on thick yet lightweight rubber sole
Figure 19: Variation of Chelsea boot including derby-like detail
Figure 20: Hiro Yanagimachi's bespoke shoe
Figure 22: Another summer shoe by Yanagimachi
Figure 23: Justin Fitzpatrick advising client during the trunk show
Figure 24: J. Fitzpatrick beautiful boot with strap buckling.
Figure 25: Deep brown derby shoe with stitched apron
Figure 26: J. Fitzpatrick's stand
Figure 27: Yohei Fukuda RTW range of shoes
Figure 28: Yohei Fukuda himself in beautifully tailored jacket watching the shoe shining championships
Figure 29: - Classic black oxfords on an impeccable last
Figure 30: Antonio Meccariello shoes in dark brown pressed suede, very interesting model.
Figure 31: Barbanera shoes on display
Figure 32: Barbanera shoes on display
Figure 33: Barbanera shoes on display
Figure 34: Barbanera shoes on display
Figure 35: Shoe shining competition
Figure 36: Shoe shining competition
Figure 37: Norman Vilalta signing his business card with a 'bespoke' sketch of one of his shoes