Press Release : World Shoe Shine Championship Winner 2022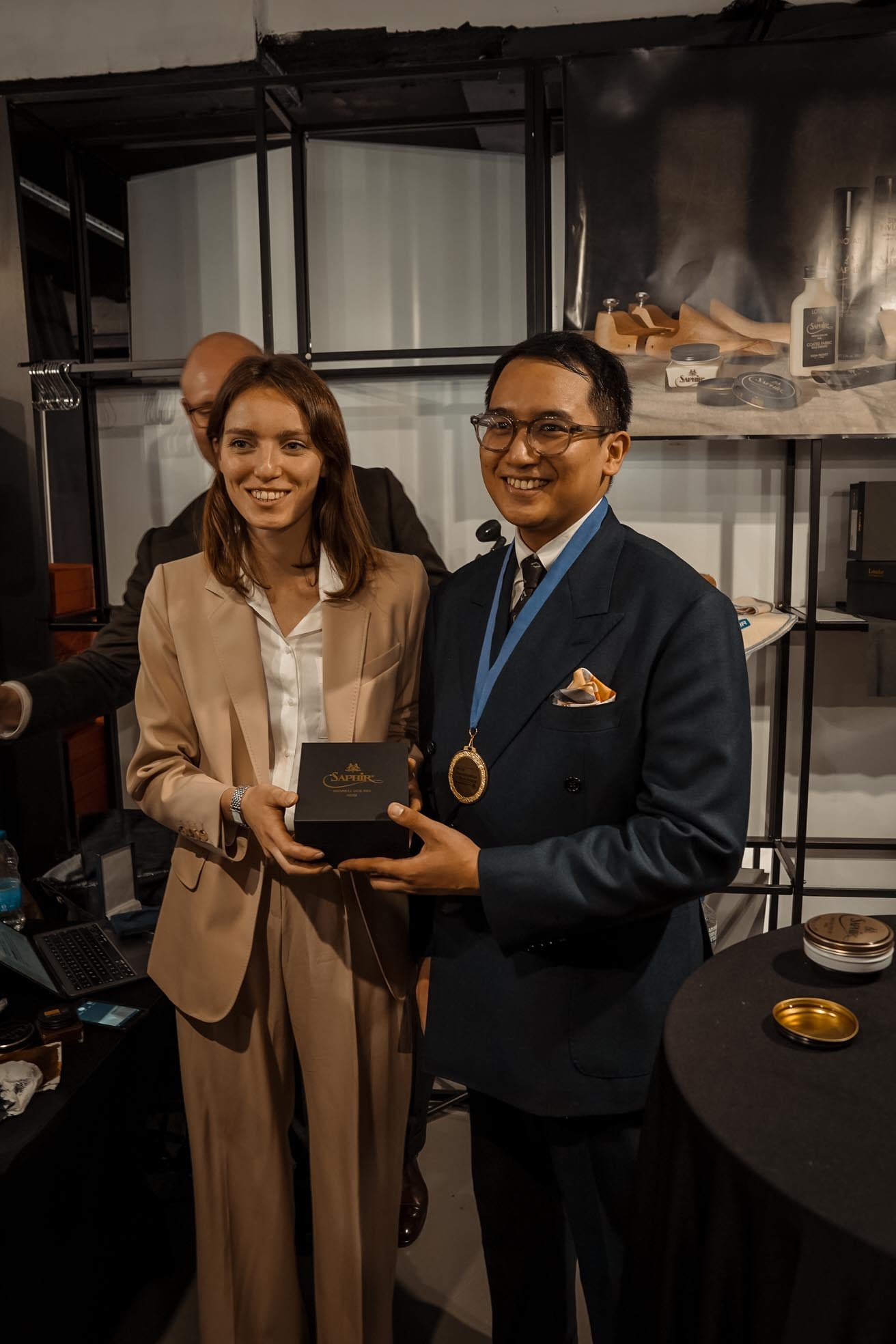 Mason and Smith Store at 98 Club Street, Singapore
For immediate release
SINGAPOREAN SHINES ON THE INTERNATIONAL STAGE AT THE WORLD SHOE SHINE CHAMPIONSHIP 2022
E : info@masonandsmith.com
M : +65 92961462
A : 98 Club Street #02-02 Singapore 069467
Mason & Smith is home to the World Champion in Shoe Shining 2018 and 2022 winners.
Katia from Saphir (left) and Ash (right) from Mason and Smith
The World Shoe Shine Championships is an annual international event organized by the leading authorities on classic shoes for men - Shoegazing and The Shoe Snob. The championship was held at The London Super Trunk Show on 7th May 2022. Every year, thousands of international brands and individual shoe enthusiasts from all over the world attend the event to witness three major competitions – World Championships in Shoe Shining, World Championships in Shoe Patina, and the World Championships in Shoemaking.
This year, two Singaporeans, John Chung and Ash Samsudin from local shoe company Mason And Smith, represented Singapore on the international stage and competed in 2 events , World Shoe Championships in Shoe Shining and World Championships in Shoe Patina. John Chung, the founder of Mason and Smith, was one of the finalists competing against 2 other contestants from France at this year's World Championships in Shoe Patina. This is the second time John Chung has entered this international championship as a finalist and also the first time a Singaporean has entered into the finals of a new category. For the World Shoe Shining Championship, the finalists were given one side of a new leather shoe to be polished in 20 minutes. The shoes are then judged based on how shiny it is, the overall color, beauty and finesse of the shoe. Ash Samsudin's shine impressed the judges and beat the other finalists to arrive in 1st place, claiming a second win for Singapore thus far.
John Chung the winner of the previous 2018 World Championships in Shoe Shining, successfully repeated this feat and led Mason and Smith to yet another win with Ash Samsudin winning this years competition. . The championship win came with great sacrifice - a grueling training schedule which includes 12 hour practice days, dry-runs as well as physical exercises to increase stamina. "I believe that we could achieve success with my experience in training for my 2018 win and was gunning for a second win. Nothing was impossible and to win it really confirms my belief that Singaporeans can excel and shine on an international level. It did surprise many foreign competitors because it has been an industry typically dominated by Europeans and Americans. " John comments.
Despite having a well established shoe shining community globally, it has never taken off in Singapore. John Chung, withstood all odds and started Mason and Smith in 2013 with the mission to provide Singaporeans a one-stop location for fine quality leather shoes. John Chung spearheaded the shoe industry, and started Mason and Smith in 2013, a first full fledged shoe store providing the retail of fine shoes, quality shoe/leather restoration and professional shoe shining services while nurturing and elevating the craft of shoe shining through education.
 ABOUT MASON AND SMITH 
John Chung, a shoe enthusiast, started Mason and Smith, a shoe store providing the retail of fine leather shoes, quality shoe/leather restoration and professional shoe shining services Mason and Smith was started in 2013, when John Chung was 21. John decided to forsake the opportunity of doing a degree and started his business because of a deep passion for shoes. Despite having parents who strongly disagreed with the decision, John was determined to build his company. John went on to apprentice and study more about shoe making under several renowned shoe makers in Hong Kong(2016) and Japan(2017) before coming back to Singapore to perfect the technique for quality shoe shine and shoe repair. Elevating the art of shoe shining and shoe repair has always been at the heart of Mason and Smith.
Apart from keeping the old craft alive, Mason and Smith has also revolutionized the typical relationship between the shoe repair store and the clients, combining modern technology, innovative footwear solutions and social media to take the shoe experience to the next level. Having spent years cultivating and perfecting the art of shoe shining, John has created a brand with deep expertise on caring for shoes and other leather goods for both men and women. Nestled in the heart of Central Business District, the flagship store at Club street has now become the go to store for every shoe lover in and out of Singapore.
Website : www.masonandsmith.com
Email : info@masonandsmith.com
Instagram : www.instagram.com/masonandsmith
Facebook : www.facebook.com/masonxsmith
Youtube : www.youtube.com/masonandsmithsingapore